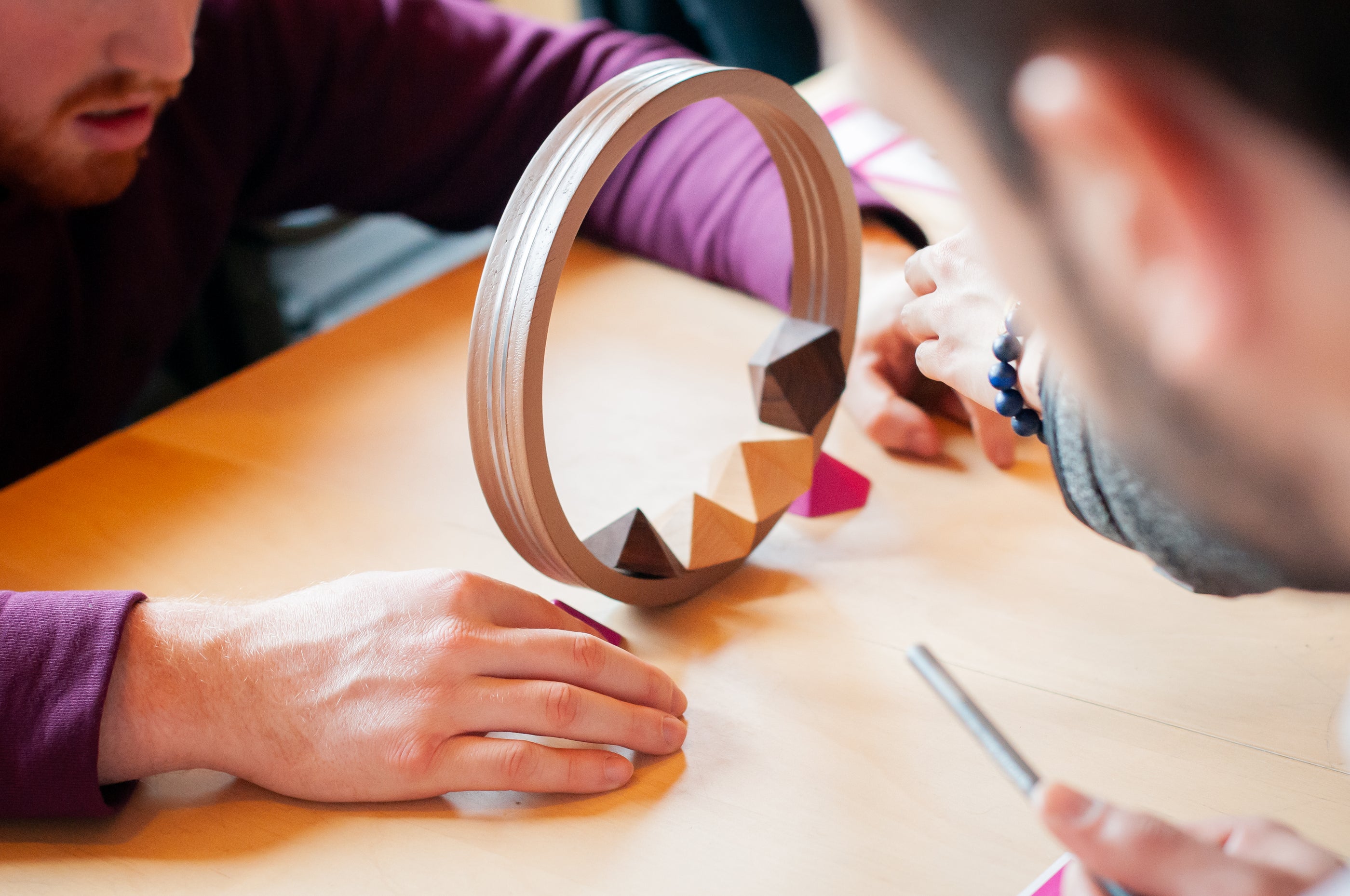 The Failure Toy®, teaching the "F-word" to all ages
Fostering resilience and innovation by exploring how we react to failure.
LEARN MORE
This is like nothing you've used before…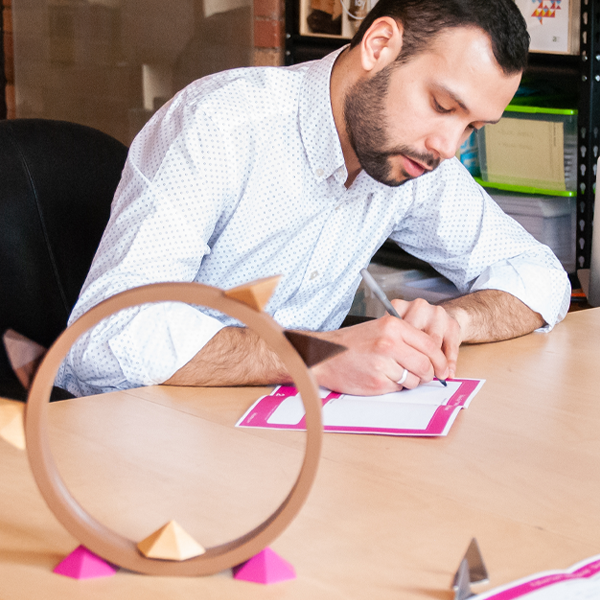 Versatile
Failure happens all the time. Gain insights on how to anticipate, navigate, and cope with failure.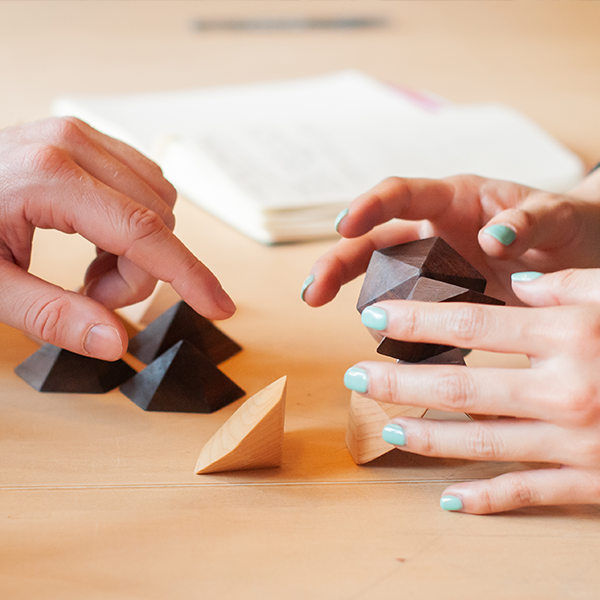 Unique
Creative, engaging, and sure to keep clients coming back for more, this kit allows you to stand out in a sea of facilitators.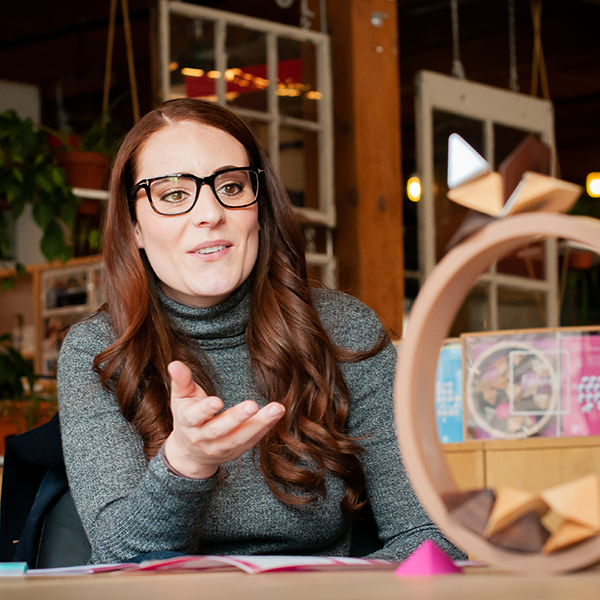 Fun
A hands-on, interactive tool for facilitating learning. This kit makes learning about failure, fun, easy and enjoyable.
Introducing the Failure Toy®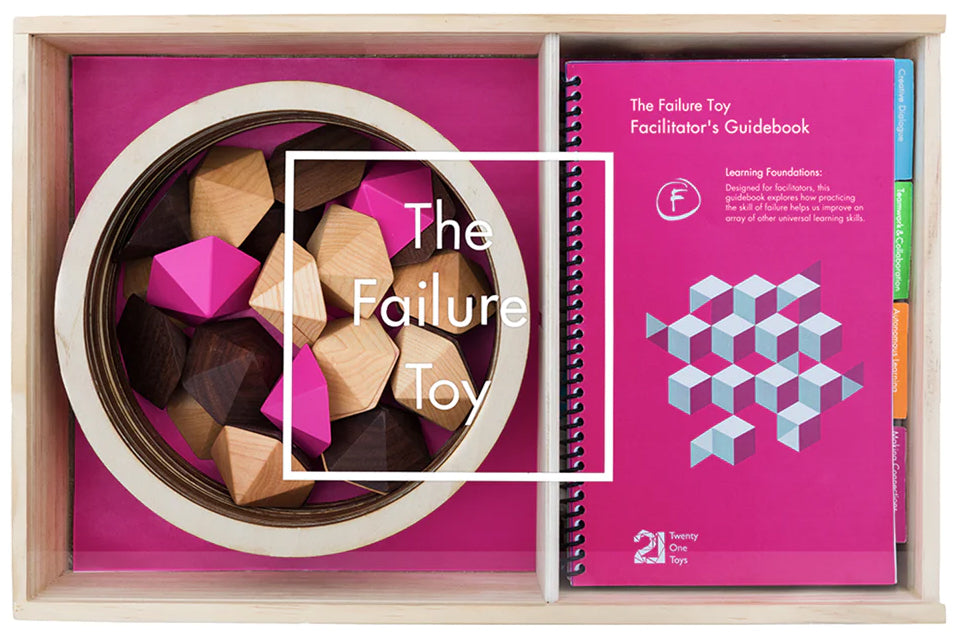 The Failure Toy® is a game of balance and experimentation that helps players develop healthier, more productive relationships with failure.
Ideal for players aged 9 to 99, the game itself is simple – but the insights it elicits are as complex and unique as the players themselves.
| | |
| --- | --- |
| | 1 Facilitator's Guidebook |
| | A "Ways to Play" Map - quick start instructions |
| | 2 Toys Sets (2 Failure wheels, 12 wooden pieces, and 4 metal pieces) |

| | |
| --- | --- |
| | 2 Drawstring Bags for easy transport |
| | Failure Toy Scorecards |
| | 1 Failure Toy Award |
Combined with your own creative approach and unique training style, the Failure Toy has everything you need to impress your clients and deliver highly impactful workshops. Each kit comes with our comprehensive guidebook, which includes information on how to use the toy to explore a wide range of themes. The Failure Toy also has benefits for players no matter their role or career stage; everyone from interns to C-Suite executives can participate in the rich discussions, and have fun too!
Hear it from others like you
"The Failure Toy workshop reminded us that building a culture that learns from failure starts by equipping individuals with the language, mindset and courage to talk about it"
Adrian, Experience Design Lead
"We had some serious fun playing with the [Failure Toy]! Learning how to fail fast, fail often, and fail well is essential to innovation and change-making."
Kelly, Facilitator & Consultant
"The hands-on experience is an eye-opener on how you feel about risk and failure and how this impacts ourselves and our teams."
Sherri, Regional Vice President
Our Story
Find out more about Twenty One Toys & the Learning Revolution.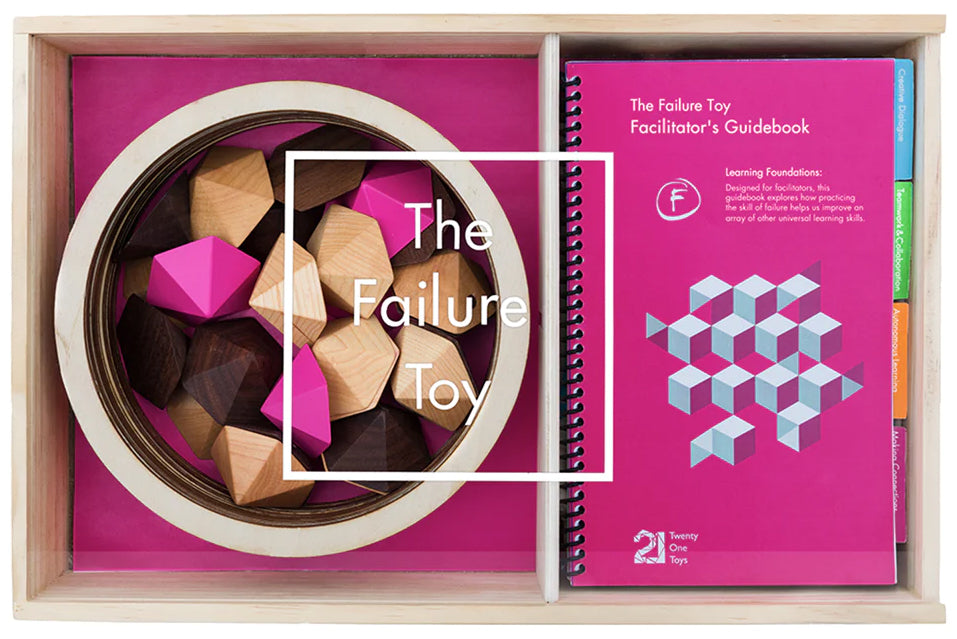 The Failure Toy®
The Failure Toy®is a game of balance and experimentation that helps players develop healthier, more productive relationships with failure.
$399 USD
BUY NOW
One Failure Toy Kit is good for up to 20 players, which works out to 2 groups of 10. If you prefer smaller groups, you may want to have 1 Failure Toy Kit for every 10 players.
Every Failure Toy Kit comes with a guidebook that has everything you need to start playing right out of the box! We're currently updating our training offerings but in the meantime, you can get playing as soon as your toy is delivered.
Our toys ship from Ontario, Canada, and we ship every weekday except holidays.
We can ship almost anywhere in the world, and we ship using UPS or Canada Post. Once your order has shipped, you'll be provided with a tracking number of so that you can follow your toy on its journey!
If you're ordering toys from outside of Canada, please note that your order may be subject to import duties and taxes, which vary by country. You will be responsible for paying any of these fees, which will be billed to you by UPS.
If you have questions about shipping, including inquiries for rush shipping, please fill out this form and a member of our team will be in touch.
The Failure Toy is player powered, which means that every game is different. You can also vary the rules of the game or the objectives to change the experience. Our team has played the Failure Toy many times and we still learn new things about the toy and each other every time we play. Previous experience with the Failure Toy also allows players to practice skills that they developed. 
Our Failure Toys are made of maple and walnut wood, magnets, and metal. They are designed for players between the ages of 9-99.
The Failure Toy contains magnets, which can be dangerous if they end up inside a living body. Please be careful to keep your Failure Toy away from kids, pets, or anyone else who might put pieces in their mouth.
If any of your players have medical devices that are sensitive to magnets, they can still play the Failure Toy! Just make sure to remove all of the magnetic pieces for all teams before you get started.
If you need to submit a purchase order or pay by a method other than credit card, please email hello@twentyonetoys.com and we'll be in touch to figure something out.
Not yet, but the Failure Toy is language agnostic! As long as the person running the workshop knows the rules of the game, the players can use any language to communicate.
Yes! We're pleased to offer a discount of $100 to K-12 teachers. You can fill out this form to apply for the discount, which can also be applied to the purchase of the Empathy Toy Teacher's Kit.
Ready to make an impact through the magic of play?
Signup to our list and join our vibrant community fostering resilience, collaboration, and creativity through the joy of play. It's time to revolutionize learning!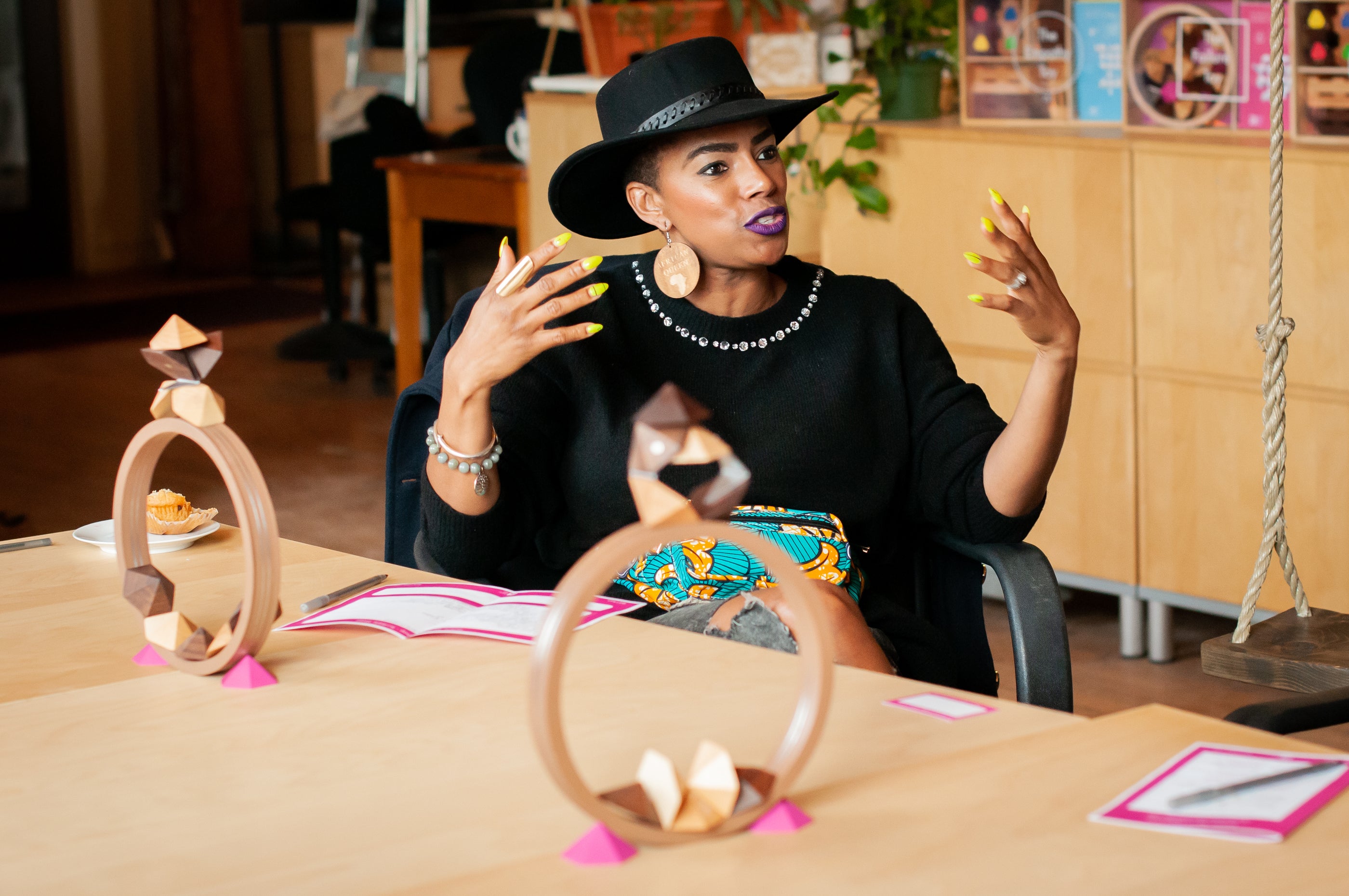 Ready to talk about failure?
See how failure can be practiced and developed as a skill rather than feared or hidden.
BUY NOW